GET YOUR FREE EBOOK
LEADERSHIP LESSONS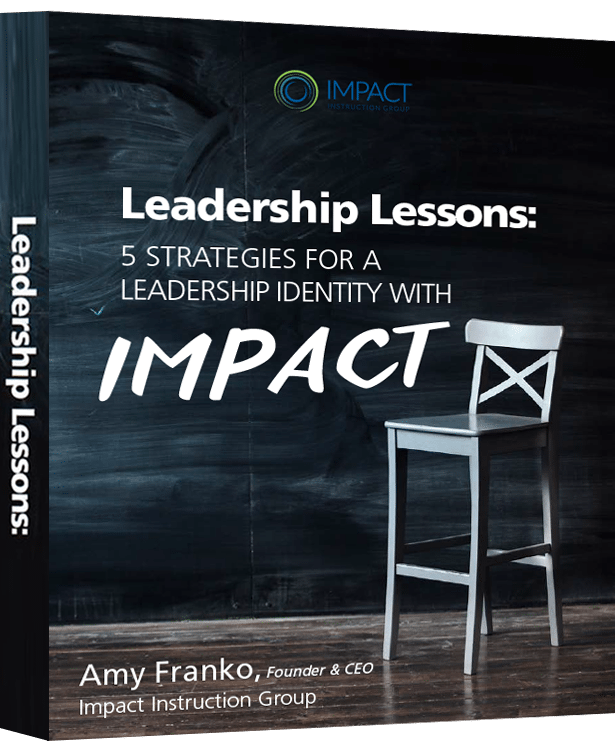 How to Create Your Leadership Identity

Get Your Free ebook from Amy Franko and Impact Instruction Group: Five Strategies for a Leadership Identity with Impact. Amy will reveal five essential building blocks for your leadership identity. Learn how to:
Shape your leadership brand, distinguish yourself from the crowd, and become more visible to senior leadership.

Act like a leader, reflecting assertiveness, decisiveness, and confidence.

Make a statement with your visual and verbal presence.

Understand the importance of how you respond to situations and people around you.

Develop strong habits to keep you on your leadership path.
Download it now to get started. You'll also receive Impact Insights, with exclusive strategies on sales performance and leadership development.
This e-book reveals five essential building blocks of your leadership identity. Each one is an important component to understanding and growing your natural leadership capabilities. You'll learn about them in depth, with actionable tips you can use to become a better leader and enhance your unique identity.
MEET AMY FRANKO
Founder & CEO
Amy Franko drives results for organizations by elevating their most important asset—their people.
Her firm, Impact Instruction Group, works with technology companies and professional services firms to design and deliver leadership development and strategic selling programs.
Known for her dynamic and engaging style, Amy is a sought-after speaker, having delivered her powerful messages at meetings and events across the country.
Amy's keynote was full of energy, exactly on point, impactful, and resonated with us all … so much so that the takeaways remain with me today.
Beth Alloway
SVP Commercial Relationship Manager Huntington National Bank
"Amy's skill and talent as a professional speaker are evident, and her thoughts and ideas are concise and insightful…You exceeded the expectations of our staff and conference participants."
Erica Merritt
Associate Director of Leadership, YWCA Greater Cleveland
"Impact Instruction is committed to doing what it takes to learn our business and develop customized, practical learning programs for our women professionals."
Recruiter
Multinational Professional Services Firm
"Amy's skill and talent as a professional speaker are evident, and her thoughts and ideas are concise and insightful…You exceeded the expectations of our staff and conference participants."
Erica Merritt
Associate Director of Leadership, YWCA Greater Cleveland
"Amy's presentation was engaging and provided concrete examples of how to build social capital. She had some great tips to share. I would highly recommend her on this topic."
Stephanie Union
Director, Kegler Brown Hill & Ritter
"Impact Instruction proved to be a valuable partner through the entire training development process… they truly brought the training to life for our sales field!"
Andrea Dowding
Executive Director, Sales Field Leadership & Development, Thirty-One Gifts
GET THE BEST IN PRACTICAL SALES & LEADERSHIP RESOURCES, DELIVERED DIRECTLY TO YOUR INBOX