Fill Your Leadership Pipeline
IMPACT INSTRUCTION GROUP DEVELOPS NEXT GENERATION LEADERS
"Leadership is not a position or a title, it is action and example."
Stop for a moment, and peer into your leadership pipeline. Who are your emerging leaders? Is your organization poised for a strong and successful future? According to research by Bersin, the leadership pipeline across most industries is weak at best. In fact, only 10 percent of first-line leadership roles have talent even identified, let alone developed and ready.
Your front-line leaders manage anywhere from 8-12 people on average – that means your front line is responsible for engagement, productivity, and results for most of your organization. Cultivating your next generation leaders is crucial to forging long-term success. But despite the fact that leadership development is consistently rated a top concern, many organizations have not implemented a formal plan to prepare their future leaders.
Impact Instruction Group offers two leadership development programs. Next Generation Leadership and Next Generation Leadership for Women.
LEADERSHIP DEVELOPMENT PROGRAMS
Evolve Effective, Engaged, and Inspiring Leaders.
OUR FULLY CUSTOMIZABLE NEXT GENERATION LEADERSHIP DEVELOPMENT PROGRAM:
Helps your emerging and front-line leaders chart a unique leadership path that creates a ripple effect of lasting impact, influence, and inspiration both internally and externally.
Helps new leaders to effectively self-lead, so they are better able to navigate and lead their teams.
Teaches the must-have skills and behaviors needed to generate maximum engagement, productivity, and results in a team environment Complements your existing leadership development programs, for a seamless fit.
Don't leave your organization's future to chance. Let us help you equip your emerging and front line leaders with the skills and tools they need to effectively lead tomorrow and beyond.
How well are women represented in your executive ranks?
Studies show that companies with higher numbers of women at senior levels consistently generate better overall organizational and financial performance. Impact Instruction Group has a long history of empowering women leaders. We offer best-in-class content, an immersive, blended learning environment, and expert facilitators.
KEY THEMES IN OUR NEXT GENERATION LEADERSHIP FOR WOMEN PROGRAM INCLUDE:
Leadership competencies and trends
Leadership and personal brand
Build your pipeline of future female leaders with a program that seamlessly fits into your current leadership initiatives.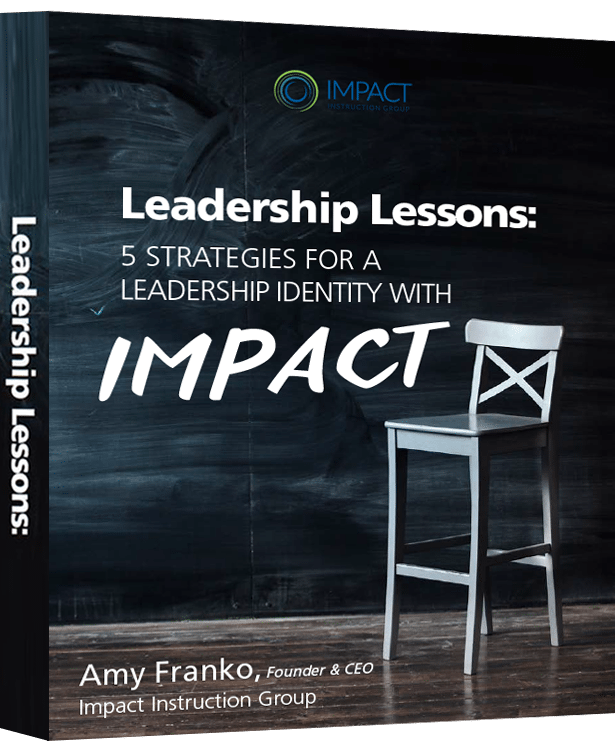 Get your FREE ebook. LEADERSHIP LESSONS reveals five essential building blocks of your leadership identity. Each one is an important component to understanding and growing your natural leadership capabilities. Download it now to get started, and you'll also receive our Impact Insights emails on sales performance advancement and leadership development
"Amy did a fantastic job compelling us to brainstorm the top traits of strategic thinkers and helping us understand how we can apply them to our own values, organizational mission and legacy. We left armed with the key questions we need to ask ourselves to achieve our own vision of impact and influence."
Jeanne Tranter,
Co-chair of the Master's Committee, Central Ohio Chapter of the Public Relations Society of America